We make more out of
fruit!
Alpenfrucht – A family company that knows what the sector needs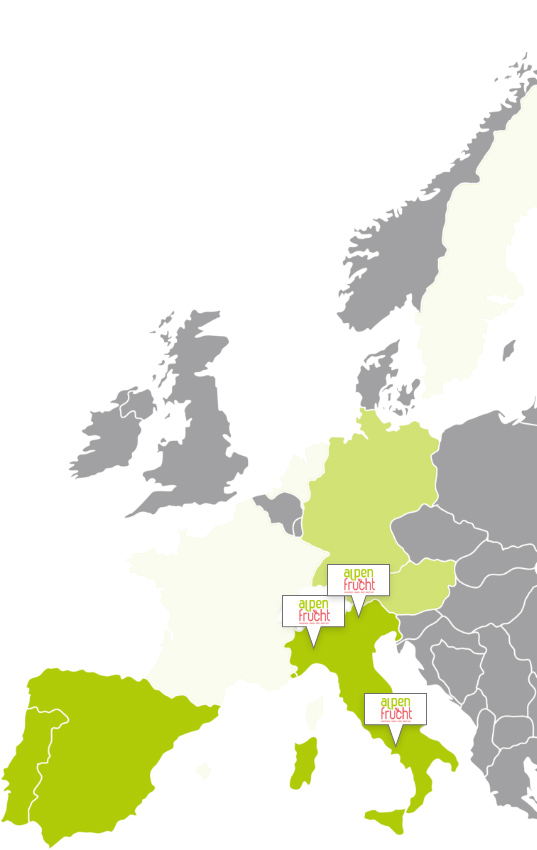 How
Alpenfrucht quality

is created
Selected farmers and locations for best quality
The processing plants of the Alpenfrucht company are situated in the main fruit-growing regions of Italy: in Tarantasca (Cuneo, Piemont) – a main area of cultivation for apples, pears, and peaches – as well as in Giugliano (Naples-Campania), which is renowned throughout Europe for its apricots and peaches. There we work together with selected farmers who produce the best raw materials for our products.
Within just a few hours of harvesting, the sun-ripened fruits are delivered to the processing plants, where they are checked and processed. The many hours of sunshine during the growing season and the rapid processing form the basis for the high quality of the resultant fruit products. The gentle treatment in machines capable of quickly processing even large quantities preserves the fruit's natural quality. In order to quickly and reliably deliver the goods to customers and maintain a high level of quality, large storage capacities are necessary.




Kiwi, Apple, Pear, Pomegranate
Kiwi, Apple, Pear
Bergamot, Kiwi, Apple
Strawberry, Bergamot, Kiwi, Apple
Strawberry, Bergamot, Apricot, Apple, Kiwi
Apricot, Bergamot, Peach, Strawberry
Apricot, Bergamot, Peach, Plum, Susina
Peach, Prickly pear, Bergamot, Plum
Bergamot, Peach, Apple, Pear
Kiwi, Apple, Pear, Pomegranate
Apple, Kiwi, Pomegranate
Apple, Kiwi, Pomegranate


You choose it,
we mix it
Most customers buy their raw materials directly from us. However, we are also happy to process your raw materials or fruits, which you have delivered from your contractual partners.
What we
produce
We produce by different methods: direct juice, juice concentrate, purèe and powder
Direct juice
A naturally turbid, delicious juice is pressed from fresh, ripe, and carefully selected, washed fruits. Naked pressed juice can be produced by means of fining, i.e., the extraction of all solids (e.g., pectin, starch, and protein) from the naturally turbid fruit juice.
Juice concentrate
Naturally turbid and naked juices can also be gently processed in multi-stage plants to yield concentrates.
Purèe
The fresh, selected, washed fruits can also be processed in multi-stage passing plants to yield fruit pulp.By choosing the proper passing screens, the resultant fruit pulp can be made slightly coarse, e.g., for fruit sauces – or very fine, e.g., for fruit nectars. The fruit pulp can also be concentrated.
Purèe +
Powder
By means of further water-extraction, fruit powder can be made from concentrated fruit pulp. Fruit powder is the basis for the following dry products: soups, sauces, beverages, and other instant fruit-based food products.
Pomegranate
This fruit of paradise can be enjoyed as a wonderfully aromatic, fresh NFC juice or as a gently concentrated product. Ripened in sunny Italy, our products display the aromatic character of the pomegranate.
Cultivation areas
Our cultivation areas in Italy and France
> Peach
> Kiwi
> Apple
> Pear
> Apricot
> Plum
> Prickly pears
> Pomegranate
22.05.2019
Regionality and Innovation at Alpenfrucht
For many years now, Alpenfrucht GmbH has enjoyed a solid reputation in the area of fruit processing in Italy. This family-operated company has factories in the northwest and south of Italy, and benefits from the many decades of experience of its founder, Rudolf Bertolini.
28.02.2017
Environmentally-aware and healthy nutrition
Since its foundation in 1995, our company, Alpenfrucht, has been working according to ecological principles. Since last year, it has also been producing select products in 100% compliance with biodynamic regulations. The integrity and naturalness of our products are the cornerstone of our company.
15.05.2016
Successful passing of the baton at Alpenfrucht
It's because the president of one of the largest manufacturers of fruit pulp and fruit juices in Italy, the Alpenfrucht company, has entrusted the management of the company to his daughter, Nicole Bertolini, the new CEO. After all, even successful companies with outstanding products have to constantly renew themselves if they want to continue being successful in a difficult market like the fruit pulp and fruit juices sector.